Share God's love with your community
Grow social media engagement 3x with our post scheduler.
Share Hope on Social Media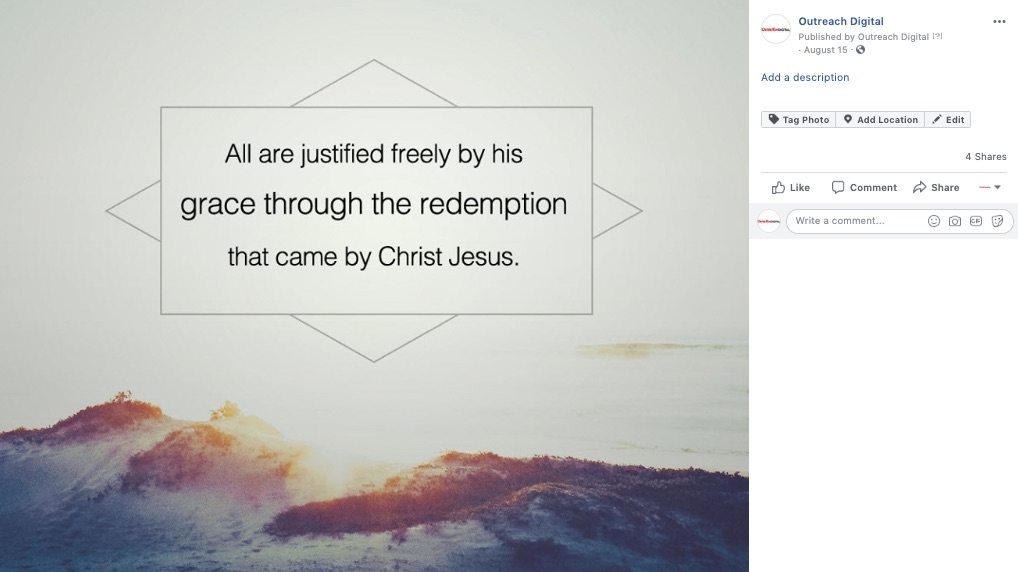 Social Auto Posting
Triple your Facebook engagement in 10 minutes.
Flip the switch on your Outreach social scheduler to deliver engaging posts every day of the year.
In moments, you can customize the type of church graphics you want posted on your church Facebook page. It's easy!
---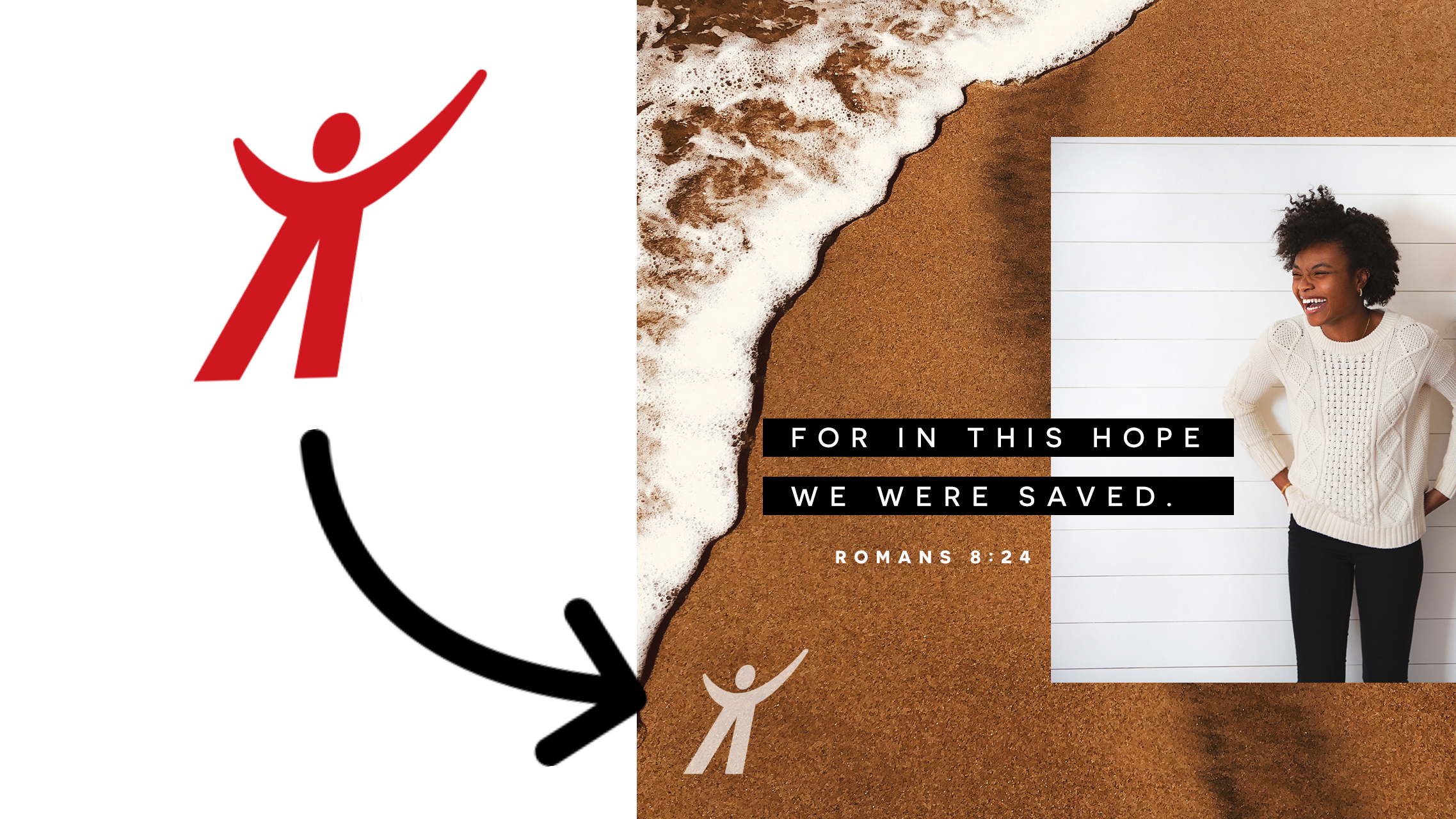 Personalize With Your Church Logo
Social media graphics, branded with your church's logo.
Your social posts should be as unique as your church.
Add your church logo in the scheduler and we'll place it perfectly within each posted graphic from that day forward.
---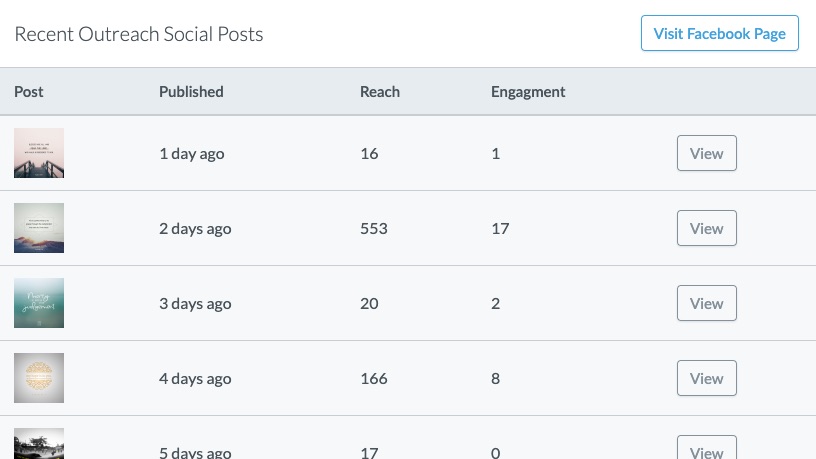 Social Analytics
Every number represents a person God loves.
Outreach helps you understand the impact of your social ministry.
We help you sift through the noise to see where your people engage and how to grow your social influence.
---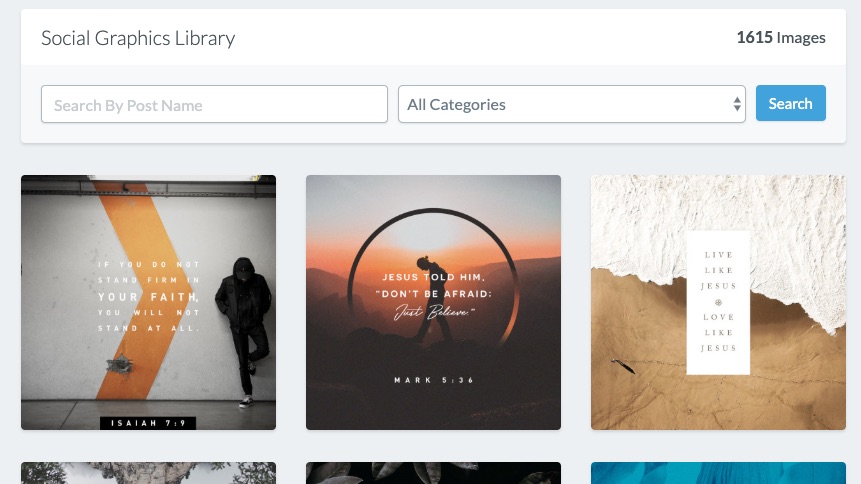 Social Graphics Library
The design power of Outreach, available at your fingertips.
Outreach has delighted churches for over 20 years with relevant faith-based imagery.
With access to over 1700 beautiful church graphics, let your creativity run wild.
Find the perfect church graphic to download and add to the church bulletin, share on messenger, or post to Instagram.
Church Pricing
Join over 1,000 churches sharing God's love with Outreach. Get started now for a 14 day free trial.
$ 15 /mo $ 19 /mo
billed annually monthly
Exclusive 3X increase in social engagement guarantee
A growing library of 1600+ social graphics
Unlimited graphic posts and downloads
Ready to use posts for all your church events
Automated posting feature on the days you select
Your logo automatically included on every post
Weekly emailed reports showing the increased engagement
Premium support
Questions & Answers
These are our most frequently asked questions about Outreach Social.
How often does Outreach Social post to my Facebook and Twitter pages?
Graphics are posted once per day, 7 days a week 12 months a year. Seasonal graphics for Easter, Christmas and Back to Church Sunday are also included.
Can Outreach Social post to a group page or personal Facebook account?
Outreach Social can only post to Business pages. If your church has a group page, though it's pretty easy to set up a business page and link your group page to it. Business pages are public so it's easier for your community to find you and you can continue to use your Group page for more private discussion.
Are the posts coming from Outreach Social or our Facebook page?
Daily posts come from your church's Facebook page. During the signup process, you give Outreach Social permission to post on your behalf, but give no other permission or controls of your Facebook and Twitter page.
How does Outreach Social help my church do outreach?
Outreach Social helps your church expand its impact online. By posting engaging graphics every day, Outreach Social helps start conversations with new and existing members that could even lead to invitations to come to church. Outreach Social also helps your church remain relevant with updated and new content on your Facebook and Twitter page every day.